Aronosky wins best director, Franco best actor at Spirits
Cholodenko, Blumberg nab original screenplay kudo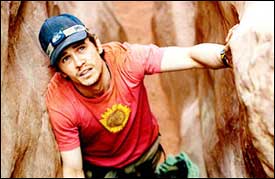 Franco in '127 Hours'
Update:
Darren Aronofsky has picked up the best director trophy for "Black Swan."James Franco, meanwhile, won the Spirit Award for best actor for "127 Hours."
Dale Dickey and John Hawkes won the supporting categories for "Winter's Bone."
"It was a crazy crazy experience," Franco said of the true-life drama in his acceptance Saturday afternoon. "I don't think there will ever be another film like it."
Franco was the only Spirits nominee also up for an Oscar in the category. He topped Ronald Bronstein for "Daddy Longlegs," Aaron Eckhart for "Rabbit Hole," John C. Reilly for "Cyrus," and Ben Stiller for "Greenberg."
Eligibility for the awards, conducted by Film Independent, is limited to US films made for under $20 million. "The King's Speech" won the foreign language trophy -- the only category in which it was eligible.
The 26th annual awards show returned to its usual spot in a beachside tent in Santa Monica amid chilly winds.
"Exit Through the Gift Shop" took the documentary award with Thierry Guetta accepting on behalf of the mysterious Banksy.
"Get Low" won the first feature for director Aaron Schneider and producers David Gundlach and Dean Zanuck.
Lena Dunham won the best first screenplay award for drama-comedy "Tiny Furniture" and thanked her parents. "I feel very lucky to have been born to my two best friends," she said.
Matthew Libatique won the cinematography trophy for "Black Swan."